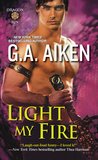 Light My Fire by G.A. Aiken
My rating: 4 of 5 stars
Series: Dragon Kin, #7
Publisher: Zebra
Date: November 25th, 2014
Genre: Paranormal Romance/Comedy
Pages: 496
Book was obtained from NetGalley for an honest review.
The trouble with humans is that they're far too sensitive. Forget you put a woman in the local jail for a few months – and she takes it so personally! And yet she is the one trying to assassinate the queen. And now I'm trapped with Elina Shestakova of the Black Bear Riders of the Midnight…gods! That endless name!
But what am I to do? I am Celyn the Charming with direct orders from my queen to protect this unforgiving female.
Even more shocking, this unforgiving female is completely unimpressed by me. How is that even possible? But I know what I want and, for the moment, I want her. And I'm sure that she, like all females, will learn to adore me. How could she not when I am just so damn charming?
I adore this series. The dragons are all just so full of themselves. Humans are, for the most part, cattle. But then there are certain humans that scare even the dragons.
Elina Shestakova of the Black Bear Riders of the Midnight Mountains of Despair in the Far Reaches of the Steppes of the Outer Plains is such a human. And yes, that really is her name. You do have to sympathize with Celyn the Charming on this one.
Elina has been sent by her tribal leader to kill the dragon queen Rhiannon the White, but her heart's not really in it. She is easily captured and imprisoned and that is where the trouble starts. Celyn forgets about her. He leaves her to rot in a human jail . . . for months.
For some reason, she resents that and is not properly grateful when he does have her released.
There are so many plots and subplots in this book. It's also a reunion of characters from most if not all of the previous Dragon Kin books. I loved catching up with everyone and seeing how their lives have developed.
On that note, I do recommend you keep the author's Dragon Kin Glossary at hand.
http://gaaiken.com/reading-order/glos…
It really does help in keeping everyone straight.
Anyway, a religious cult is sweeping the lands and Rhiannon wants to make an alliance with the Tribes of the Steppes. Everything in the book spins from this need for an alliance.
As in all of Ms. Aiken's (aka Shelly Laurenston) books, the humor is what makes them so wonderful. There is humor in the personalities of the characters. There is humor in the situations they find themselves in . . . and there is even humor in the architecture.
No, really! Wait until you read about the cult's temples.
I highly recommend this entire series. It's hard for me to say this book can be read on its own because it brings back so many of the characters from previous books. I think to truly enjoy it, you should read the entire series . . . back to back. I know I am going to with the release of the next book.
Now when is that going to be? I want it now!